"The most innovative, creative and proven teacher for the past 30 years. The legendary Rick Macci sees it, explains it, and knows how to correct it for any age or level…a true gift."

– Tennis Industry
Over the past 30 years, Rick Macci has pretty much worked exclusively with World-Class Professionals, budding Superstars, talented Juniors, and children starting at age 3.
NOW RICK IS AVAILABLE TO ADULT PLAYERS AROUND THE WORLD
for a once in a lifetime experience to be taught by the teacher who teaches the teachers.

Diagnose and Correct Flaws
Rick can diagnose and correct flaws in your game better than anyone teaching today. Most of all he can communicate it to you and connect the dots for any adult at any level. You will see and feel immediately what you have never felt before in your game. If you really want to improve and are willing to experiment and make changes then experience the Macci Magic within your game.
One-on-one Private Lessons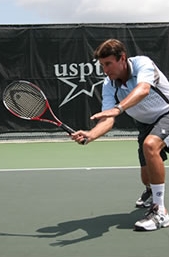 Rick is available on a very limited basis so advanced booking is needed. Everything is done as a One-on-One Private lesson, not a group environment or boot camp doing drills and really just hitting balls that make "bad habits more permanent".
Rick will unlock movements, create and establish an open-ended learning road map for your game all in a one hour private lesson. Many serious adult players schedule three-four privates during their visit to the luxurious Boca Lago Country Club and sprinkle in some match play, ball machine or hitting wall training.
So if YOU really want to tweek, modify, fine-tune, change and experience more power with less effort…the Rick Macci One-on One experience is a MUST for any player who really wants to learn how to improve their game.
Call today to sign up with legendary coach, Rick Macci, and experience for yourself why adult club players around the world are giving such rave review.
Speak to Rick directly at 561-445-2747….The first call is only the "beginning" of the Macci difference!
"It's all in the eye of the beholder. Rick sees ones game through world class vision, creatively and problem solving. He is a master at his craft."
– Tampa Tribune