Macci Certification Program

BE CERTIFIED IN THE RICK MACCI SYSTEM THE GOLD STANDARD IN THE TEACHING TENNIS.
USPTA Hall of Fame and legendary coach, Rick Macci shares his secrets and amazing playbook with any coach, instructor, mentor, teacher or parent.
The RMTA Teaching System & Methodologies Program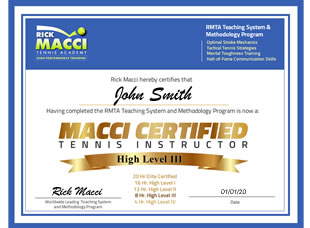 Learn the #1 Teaching System and Methodology that has transformed the way the game is taught from biomechanics, to tactics and on court mental toughness training and how to communicate it to each and every level.
You will learn all the hidden secrets, the corrective techniques, and the gift of Ricks magic in extracting greatness from every student.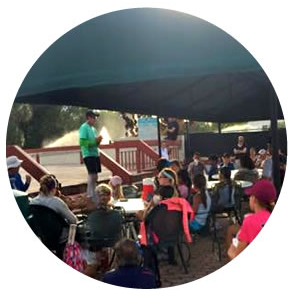 Join hundreds around the world have become MACCI CERTIFIED and that stamp of approval has become the gold standard for any tennis teacher. It is a game changer for any club, and shows you have been with the best of the best and your tool box is cutting edge
All participants will receive an official MACCI CERTIFICATION from Rick for you to be able to show the world you have been trained at the highest level of Tennis coaching education available.
This is must see tv and your in it with an iconic teaching master on court!
Tuition Structure to become MACCI CERTIFIED
4 Hours a day On Court With Rick totaling 20 HOURS:
$800 – 1 Day (4 Hrs Total) High Level IV
$1500 – 2 Days (8 Hrs Total) High Level III
$2200 – 3 Days (12 Hrs Total) High Level II
$2900 – 4 Days (16 Hrs Total) High Level I
$3400 – 5 Days (20 Hrs Total) Elite Certification
You will be allowed to video each step, ask questions, take notes, and be on court with Rick Macci himself.
Call or email Rick directly to set up your visit and join the hundreds of pros who want to be the best they can be and learn the number one teaching system in the world!