Academy Programs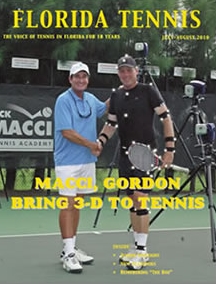 RMTA is conveniently located at the luxurious Boca Lago Country Club in Boca Raton, Florida. The Macci Academy is a very personalized program… it is not a factory. Each day students receive individual instruction with a small student/pro ratio for drilling, point play, group fitness and athletic enhancement.
Often the student will play the coaches in points and matches! A BIG key to Junior Development is playing matches and competing daily. All students, depending on the skill level, will compete each and every day in sets and matches. Sometimes the matches will be supervised and sometimes the players will be on their own and duplicate a tournament environment. This is a HUGE key to handling pressure and delivering when it counts most…in matches!

[video_lightbox_youtube video_id="ix7t2VOOWjo" width=640 height=480 anchor="https://rickmacci.com/wp-content/uploads/2013/05/macci_commercial.jpg"]

Academy Professionals
ALL academy professionals are USPTA certified with a diverse background for every level of player development. All RMTA professionals share the same Macci teaching philosophy and all the pros are available for private lessons outside of the Academy schedule.
RMTA students receive the following:
Each student has a mentor and developmental learn to maximize the player's development. The team will be the player, trainer and parent.
A game plan: a development plan will be executed. This is a comprehensive plan touching on every area for today, tomorrow and the future.
RMTA Training, a system and comprehensive approach to training RMTA students is implemented to achieve the most efficient and effective developmental plan.
Technique, strategy tactics, shot selection and patterns. Every player will have a crystal clear understanding of their basic strategy as the athlete. Also, major league world class coaching is taught to the player to learn the professional strategy, tactics and mind set. RMTA is the worldwide leader in biomechanics and every student will be exposed to the great technique used by the best of the best ever.
Physical training: athlete enhancement/RMTA with the staff and affiliation offers in depth state of the art fitness programs designed just for you. RMTA has the premier sports medicine trainer as part of our team.
Mental counseling: RMTA has 2 sports psychologists available to execute a plan for each player to reach their potential.
Singles play, doubles play and point play. This is done for all levels daily at RMTA.
Tournament schedule with your mentor and parent. This will be discussed to optimize your development throughout the season.
Tournament travel with coach. This is offered for an additional fee.
DAILY SCHEDULE
8:00 – 8:15       warm up
8:15 – 8:30        serves, match play
8:30 – 9:15        1-2-3-4 balls drills, athletic movement, match play
9:15 – 10:00     live balls, point play
10:00 – 11:00  academy fitness, or additional drilling, special help with hitting, match play
11:00 – 3:00     Lunch, study, home school
3:00 – 3:15       warm up, match play
3:15 – 3:30       serves, match play
3:30 – 4:15        1-2-3-4 balls drills, athletic movement
4:15 – 5:00       live balls, point play, match play
5:00 – 6:00     RMTA fitness or additional drilling, special help, match play
DAILY MENTAL TOUGHNESS TRAINING
I agree to be at all practices unless I have notified my mentor otherwise.
I agree to maintain passing grades in all courses and I agree to always be ahead in my school work if home schooling. I agree that if I have a failing grade, I could be put on probation until such grade is improved with teacher's approval.
I agree to be on time and prepared to practice by arriving 5 minutes early so if academy starts at 8am, I will be there no later than 7:55 am
I agree to my warm-up is one of the most important parts of my practice as it allows my body to prepare to play so I will not miss or underutilize the warm up!!!
I agree to pick up balls within a 2 minute time period after I am told to pick up!!
I agree that I will play anyone, anywhere, anytime as my goal is to practice all levels and work on defeating all game styles without complaint as I realize I must challenge myself mentall by playing down as well as mentally by playing up and everything in between!!
I agree any yelling, screaming, throwing or dropping racquet, and/or excessive drama will not be tolerated. 1st offense mean 1 lap around the court and loss of point, 2nd offense means 5 laps and loss of game, 3rd offense means 10 laps and loss of 2 games, 4th offense banned from practice for the entire day.
I agree to not use profanity and if I do it will result in a 10 minute time out. If it happens again, I will have to go speak with Rick directly.
I agree to respect my parents, coaches and peers at all times.
I agree to work at 100% effort all the times, to run for every ball, and to complete all exercises during drills at all times.
I agree that during fitness I will push as hard as I can and listen during instruction to avoid injuryt and to maximize what I can get out of fitness sessions.
I agree that if I lose composure during practice, I could be dismissed from practice and will meet with the coach on the following day to discuss actions and procedures.
I agree to leave my cell phone, ipod or other electrical devices off and in my bag until practice is over.
I agree to be in attendance during all fitness sessions when I am at the academy even if it starts raining.
I agree that my goal is to push myself, be a leader on any court, set an example for the younger kids and prove everyday that I deserve to be pushed.