RMTA offers THREE different programs to fit the individual schedule and goals of each student:
Year Round Tennis Program
Summer Tennis Camp
Holiday Tennis Camps
I. YEAR ROUND TENNIS PROGRAM:
This program runs September through May (Monday – Friday-5 days/week)
Program
Time
Month
Week
Day
Morning Academy
8-11 AM
$1,600
$500
$125
Afternoon Academy
3-6 PM
$1,600
$500
$125
4-6 PM
$1,000
$300
$100
Morning & Afternoon Academy
8-11 AM & 3-6 PM
II. SUMMER 2012 CAMP PROGRAM:
Voted #1 Junior Summer Tennis Camp in North America
This program runs June, July and August (Monday – Friday from 8 AM-4 PM)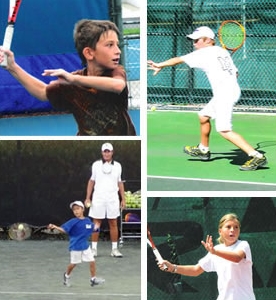 The Summer Academy program offers training sessions for the beginner to the touring professional. RMTA has the most intensive Summer Program in the country. Rick personally oversees the Summer Academy and is available for one-on-one private lessons with players of all levels.
In addition, Rick gives a half hour group lesson at the end of each camp day. Parents, coaches & students can ask questions, take notes & videos. Enrollment is limited to insure the highest standard of individual attention. Some weeks are completely filled prior to summer. Please enroll well in advance to secure a spot. Private lessons with Rick should also be booked early. All students have to fill out a registration form in advance with payment in full. Cancellations are a credit on file to be used at a later date.
2013 SUMMER CAMP SCHEDULE
WEEKS
DATES
Week 1
June 3-7
Week 2
June 10-14
Week 3
June 17-21
Week 4
June 24-28
Week 5
July 1-5
Week 6
July 8-12
Week 7
July 15-19
Week 8
July 22-26
Week 9
July 29 – Aug. 2
Week 10
August 5-9
Week 11
August 12-16
Week 12
August 19-23
SESSION HOURS:
Monday-Friday 8AM-11AM and 1-4PM
TUITION:
Non-Boarding:
Full Day (30-Hour Camp) – $900/week
Half Day (15-Hour Camp) – $500/week
Boarding:
Full Day (30-Hour Camp) – $1,600/week
The boarding program is limited and structured on an individual basis. Check in for the Boarding Program is Sunday and departure is Friday after Academy training. Additional nights are $150 per night. All boarding whether full time or part time is done with host Academy families. These families have children in the Academy training year-round and provide a great, safe, family environment for all boarders. Meals, transportation, and accomodations are provided. Prior to attending the Academy, parents are encouraged to speak directly to the parents housing their child. Whether your child is planning to board for a week or nine months we have personalized, secure boarding options for any student visiting RMTA.
Daily Rates:
Full Day – $200 (Six Hours) Monday-Friday 8-11AM & 1-4PM
Half Day – $125 (Three Hours) Monday-Friday 8-11AM or 1-4PM
II. HOLIDAY CAMPS
This program runs Spring Break,Thanksgiving, Christmas, and operates with the same sessions offered in the Summer Academy listed above that include boarding and non-boarding, as well as, full and half-day programs.
NOTE: It is strongly advised to register early for these high demand dates.
THANKSGIVING CAMP:
Nov. 25-29, 2013
Mon & Tues: 8-11AM & 3-6PM
Wed: 8-11AM & 1-4PM
Thanksgiving Day: 8-11AM only
Fri: 8-11AM & 1-4PM
Full Day – 27 Hour Camp – $900/week
Half Day – 15 Hour Camp – $500/week
CHRISTMAS CAMP:
Dec. 16-20, 2013
Dec. 23-27, 2013 (Christmas Day – 8-11am Only)
Dec. 30 – Jan. 3, 2014
Mon-Fri: 8-11AM and 1-4PM
Full Day 30 Hour Camp – $900/week
Half Day 15 Hour Camp – $500/week
Daily Rates – Full Day (6 Hours) – $200
Half Day (3 Hours) – $125
SPRING BREAK CAMP:
Mar. 4-8, 2013
Mar. 11-15, 2013
Mar. 18-22, 2013
Mar. 25-29, 2013
April 1-5, 2013
April 8-12, 2013
"Venus, Serena, Capriati, Roddick his fingerprints are physically and mentally are all over these four. "
 – CBS Sports