Boca Raton, Florida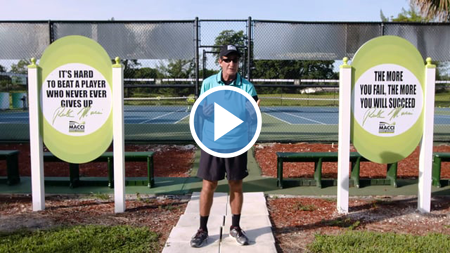 I am frequently asked what makes the Rick Macci Tennis Academy one of the most respected tennis programs in the world? My response is that we have the best cutting edge instruction for all levels, second to none. The level of coaching the students receive, the personalized attention that comes with the smallest possible student-to-instructor ratio, and the nurturing atmosphere all give us the most in-depth, individualized tennis program available. I have been fortunate to train, coach, mold some of the best juniors and professionals in the world. Coaching is an art, and communication with individual psychology is the key.
That is why I believe that a smaller, more intense program with a heavy emphasis on the individual is how to develop tennis players.
Over the past 30 years, I have dedicated my life to changing lives and to the development of tennis players of all levels.
It is a long-term process; it takes hard work and dedication to live up to your potential. Here at Rick Macci Tennis Academy, we will do our best to help you develop as a person, athlete and player. So whether you are looking for a year-round junior tennis program or an award-winning summer tennis camp, we have something for all ages and all levels.
I look forward to personally working with you very soon at our Academy located at the luxurious Boca Lago Country Club in Boca Raton, Florida.
All the best,